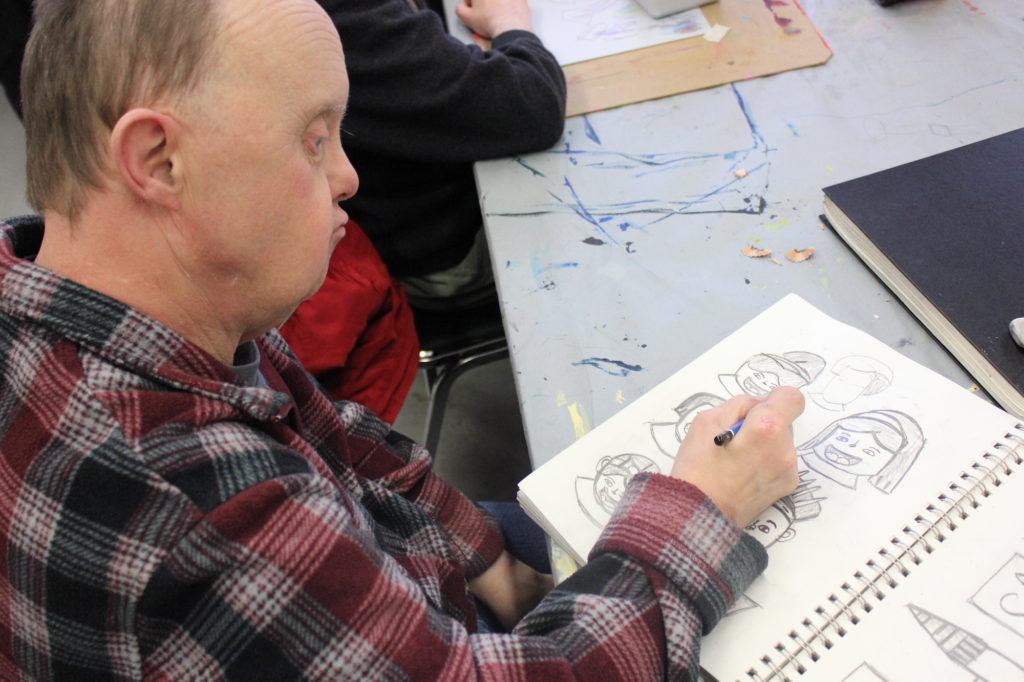 Randy was born in 1957. Family is important to Randy, he lives at home with his parents in Sherwood Park.
He is a prolific artist who likes to create pictures with two very different subject matter; scenes from programs he has seen on television or landscapes from memories and photographs. Randy typically works with pencil crayons but has recently begun experimenting in chalk and oil pastels. Some of his pictures are fanciful in nature with a bright imagination. Others are gentle landscapes complete with their own frame. Showing his art is a special treat for Randy, there is a sense of pride in knowing that others enjoy what he creates. Randy says, "I draw all day. That's what I like best to do. I draw at my Mom and Dad's, I draw at the group home, I draw at the Centre. I have my own sketchbook. I draw all kinds of things, dinosaurs and dinosaurs being born, people, people holding up buildings, my ex-girlfriend Katie. Ideas come from my head and from photographs. I like to fill up the page. Two of my drawings were put on t-shirts."
Randy has done a logo for the Heart of the City and Project Citizenship. His work is used for t-shirts, billboards, videos and set design.