Changing lives through art
Since it was founded in 2003, the Nina Haggerty Centre for the Arts has been home to one of Edmonton's most interesting art collectives, made up entirely of artists with developmental disabilities. What began as a collective of one has grown to include almost 200 members, whose work has been shown throughout Canada and the world.
We opened in a rented space on 111 Avenue, but eventually outgrew it. In 2009, our collective moved to its current home on Alberta Avenue, proud to be in our own building and part of a community that is revitalizing through the arts.
In the studio, artists are supported by a rotating team of professional, practicing artists who facilitate the work through one-to-one mentorship, small group sessions and workshops. Artists at the Nina work in a variety of mediums: drawing, painting, clay, fibre arts, performing arts and more.
In addition to our studio, the Nina operates the Stollery Gallery, dedicated to presenting work from artists outside of the mainstream, including members of our collective. Finally, we offer the work of our artists for sale through our shop—onsite and online—where you can find great original work at affordable prices.
Click here for our Annual Report 2017
Our Vision
All people have the right to achieve their highest potential, which includes the right to creative expression. Creativity lies within everyone and can be powerfully expressed through the arts. the Nina believes in the importance of creation and exhibition of art by those who face barriers to artistic expression.
Who is Nina Haggerty?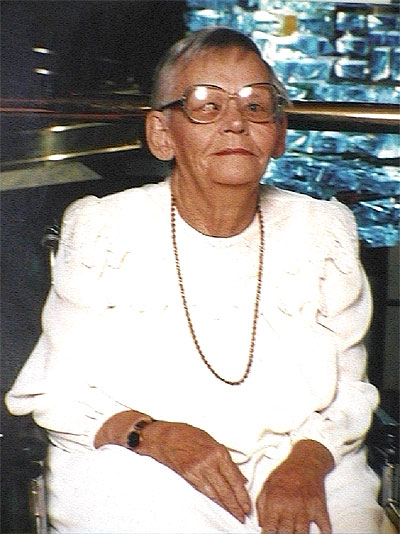 Nina Haggerty was born in Alberta in the early 1900s. She was the second of two daughters and, like her sister, contracted polio. On the advice of friends, their mother placed them in an institution for "mental defectives," where they remained for the next fifty years. They were left to believe nobody cared, and that nobody would help.
The SKILLS Society cared. An organization that supports people with disabilities, SKILLS helped make it possible for Nina and her sister to live together in the community, like they had as children. After half a century in an institution, they were able to live their lives the way they saw fit.
Nina took an art class and it unlocked her passion. Creating art let her express herself in a way that had been impossible when she had been institutionalized. She spent the next decade creating many paintings, which she gifted to friends and support workers.
Four years after she died, SKILLS helped open a centre to allow people with developmental disabilities become artists and experience the joy Nina felt when she put paint to canvass. It seemed only fitting we would name it after her.
We are proud and fortunate to be known as the Nina Haggerty Centre for the Arts because her story, her triumphant fight against the odds, is an inspiration for every artist in our collective.
Our Staff
Madison Dewar

Artistic Staff

Hilary Mussell

Artistic Staff

Taryn Kneteman

Artistic Staff

Holly DeMoissac

Artistic Staff

Leslieanna Blackner Au

Community Engagement Manager

Leanne Olson

Artistic Staff

Janice Easton

Communications & Marketing

Wendy Hollo

Executive Director

Paul Freeman

Artistic Director

Rona Fraser

Director of Development

David Janzen

Exhibition Coordinator

Cynthia Sentara

Studio Manager

Brenda Kim Christiansen

Artistic Staff

Amanda Howell

Artistic Staff

Susan Seright

Artistic Staff

Dennis Yowney

Artistic Staff
Our Board
Sara Hart
David MacGillivray
Shelagh Kubish

Chair

Janice Kosak

Vice Chair

Jodi Eyolfson

Director

James Morrissey

Director

Bruce Kirkland

Director

Roy Skoreyko

Director