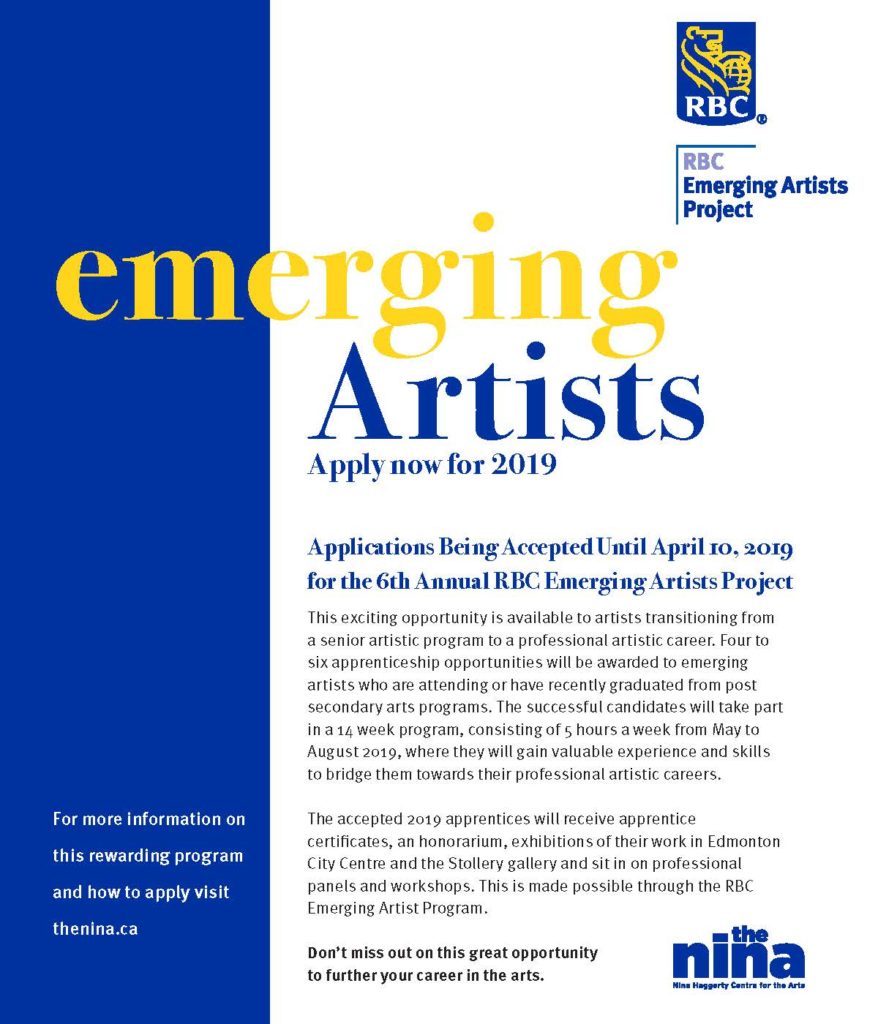 IMPORTANT INFORMATION ABOUT THE PROGRAM
The program receives many applications from emerging artists but only 4-6 will be accepted. Please be sure that you can commit to the program before submitting your application.
Commitment requirements:
Approximately 5 hours per week working in the Nina studios with artists who face barriers to the arts world
Must commit to the full program – May 16th to August 9th, 2019
Share your artwork (minimum 6 pieces) in Edmonton City Centre and the Nina's Stollery Gallery (exact dates TBA)
Attend the exhibition opening and reception on August 15th, 5-7PM in the Stollery Gallery
DEADLINE FOR APPLICATION: APRIL 10, 2019
LATE APPLICATIONS CANNOT BE ACCEPTED
Successful applicants will be notified on April 12, 2019
How to Apply:
Submit your application by email to: janice@thenina.ca
OR by mail to:
Janice Easton
The Nina Haggerty Centre for the Arts
9225 118 Ave NW
Edmonton, AB T5G 0K6
Please provide the following information in your application:
CONTACT INFORMATION
Full Name:
Email:
Phone:
School/University Name:
Program:
Expected or completed graduation date:

How did you hear about this program?
Would you be available to apprentice in our studios one day a week (Your choice Mon-Fri) from approximately 9:30-2:30 from May to mid-August 2019?
Would you be prepared to contribute work to be exhibited (minimum 6 pieces) for the RBC Emerging Artists Exhibitions scheduled for August 2019?
Please take a few paragraphs to introduce yourself:
Please include a Resume or CV (PDF or Word Format) with your application.
8-12 images of current work in a digital format (digital images must be jpegs, 72dpi or higher, maximum image size 1024 x 768 pixels). Please title each image in the following format: 01Lastname_Firstname_Title, 02Lastname_Firstname_Title, 03Lastname_Firstname_Title, and so on.
Please provide information for two contactable references.